5 Essential Ingredients Every Student Needs
It is said that a good student can make a better carrier and it starts with his dreams, passion, education, and environment. Why it is said that a healthy environment is always made a student a better person in his life is because this is the first challenge in his life to get him prepared for the upcoming challenges in the future.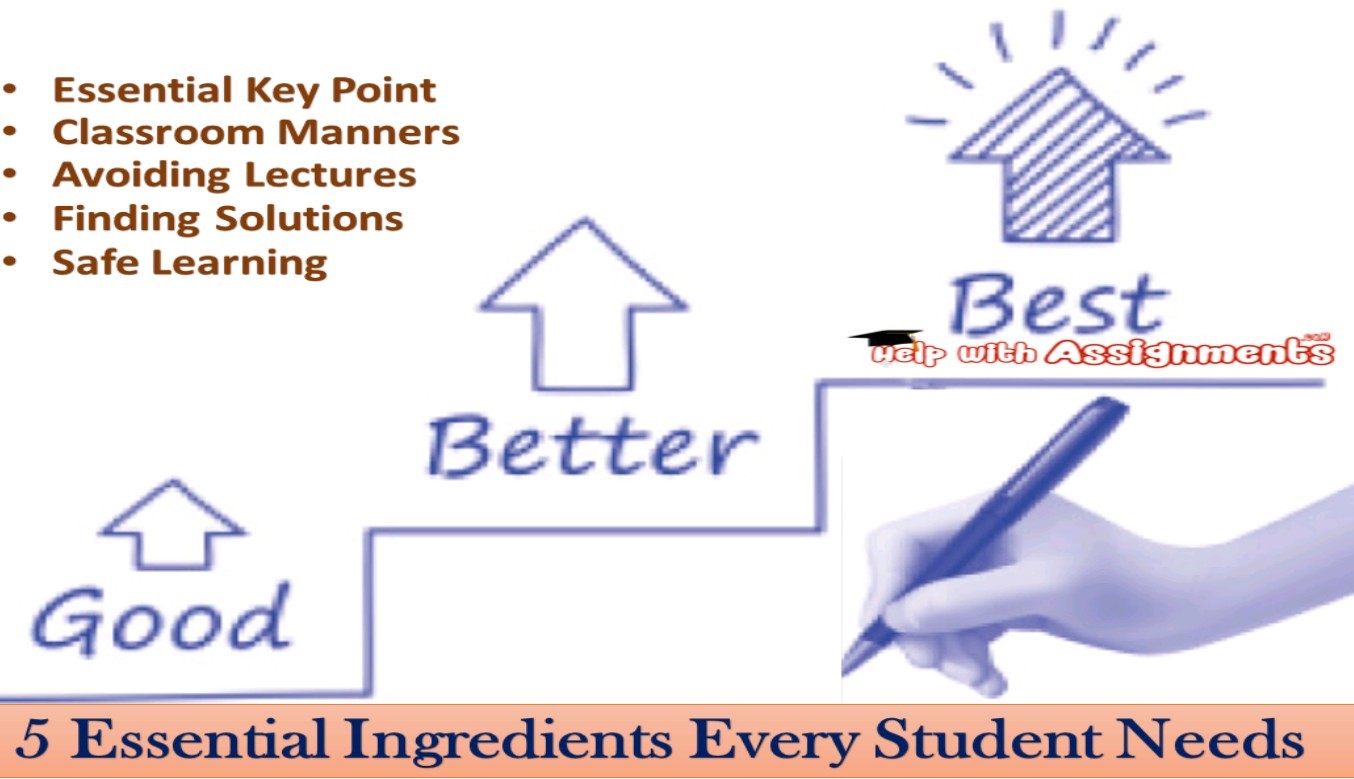 Here we will talk about some essential key point that every student needs:
Child life starts with some lessons which our parents start giving us from day one as they are the first good wisher for us. Then as a child growing up his or her academic carrier starts from playschool to primary and then higher-level education. The education system is prepared in such a way that from entry-level to finishing level a student can learn basic behavior to social behavior and finally corporate behavior.
Classroom manners:
Starting with morning prayer heals our mind and gives a student to be focused in your life, and the most important thing to believe in yourself.
When a child entre in the classroom they have some vision to their life. While the teacher enter in the classroom with him or her with a smile in your face to give respect to a person who is none other than your teacher. To be quiet and listen to the teacher while the teacher is reading some or teaching us something, it teaches a student to be focused in and hear properly.
Sharing study materials, sharing your tiffin teaches a student to belive on each other from here it comes (sharing is caring).
Making new friends:
Making new friends is always a good feeling for everyone. Friends sometimes hold your hands like an umbrella and suggest you the right path. A good friend will always stand beside you. While choosing a friend you will get to know about human nature, a difference between a good person and a bad person. We always require a friend in our journey of life. We share our feelings, emotions, even our thoughts too. Often students help each other to do Homeworks, Assignment help.
Follow the rules:
Rules teach us to be strict to follow the direction which has been followed by successful people. Every schools and college have their rules and regulations that need to be followed by each student. From day one student is bound to follow the rules from dress code to classroom manners. To be punctual on time is always great potential in a human being. It makes you do things with perfection and makes you confident enough.
Problem-solving:
Starting with solving the Abacus to mathematics teaches us how to make them easier. It teaches us to be confident in front of any difficult situation. Solving the question paper also gives us a lesson to solve our daily life problems. Student life is always surrounded by difficulties in every segment but this is the time while we entre our baby footprint to become a successful person. A good human being always makes you confident and satisfies others too.